 Send money instantly. Zero fees.
SEND CA$H WITH VARO TO ANYONE.
Send money to anyone, no matter where they bank. Best part? It's fast, free, and secure.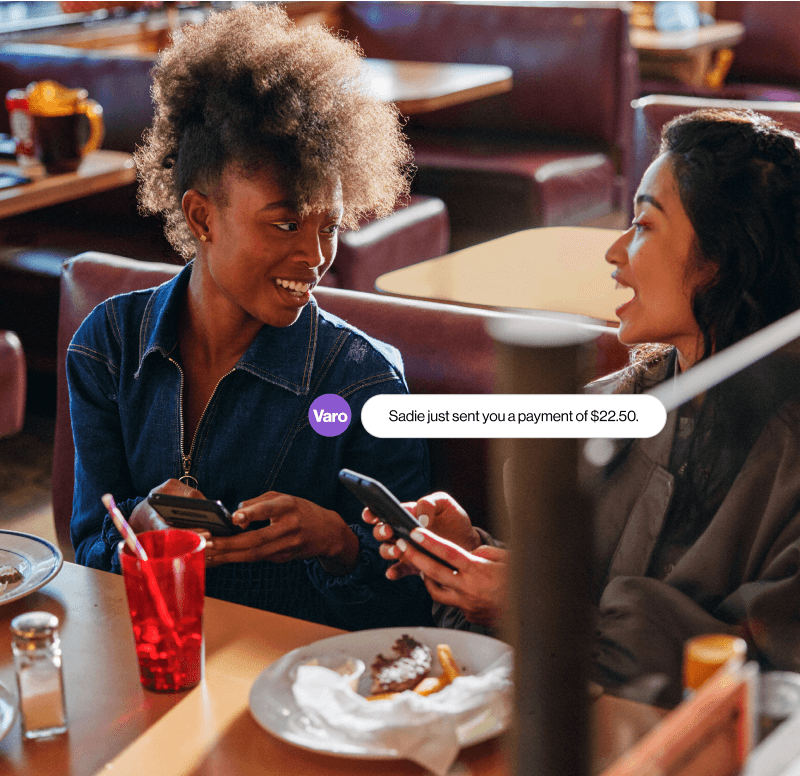 It's fast.

Sending money to anyone is instant.

It's free.

There are no fees to send or receive a payment.

It's secure.

Varo uses advanced encryptions to protect your data.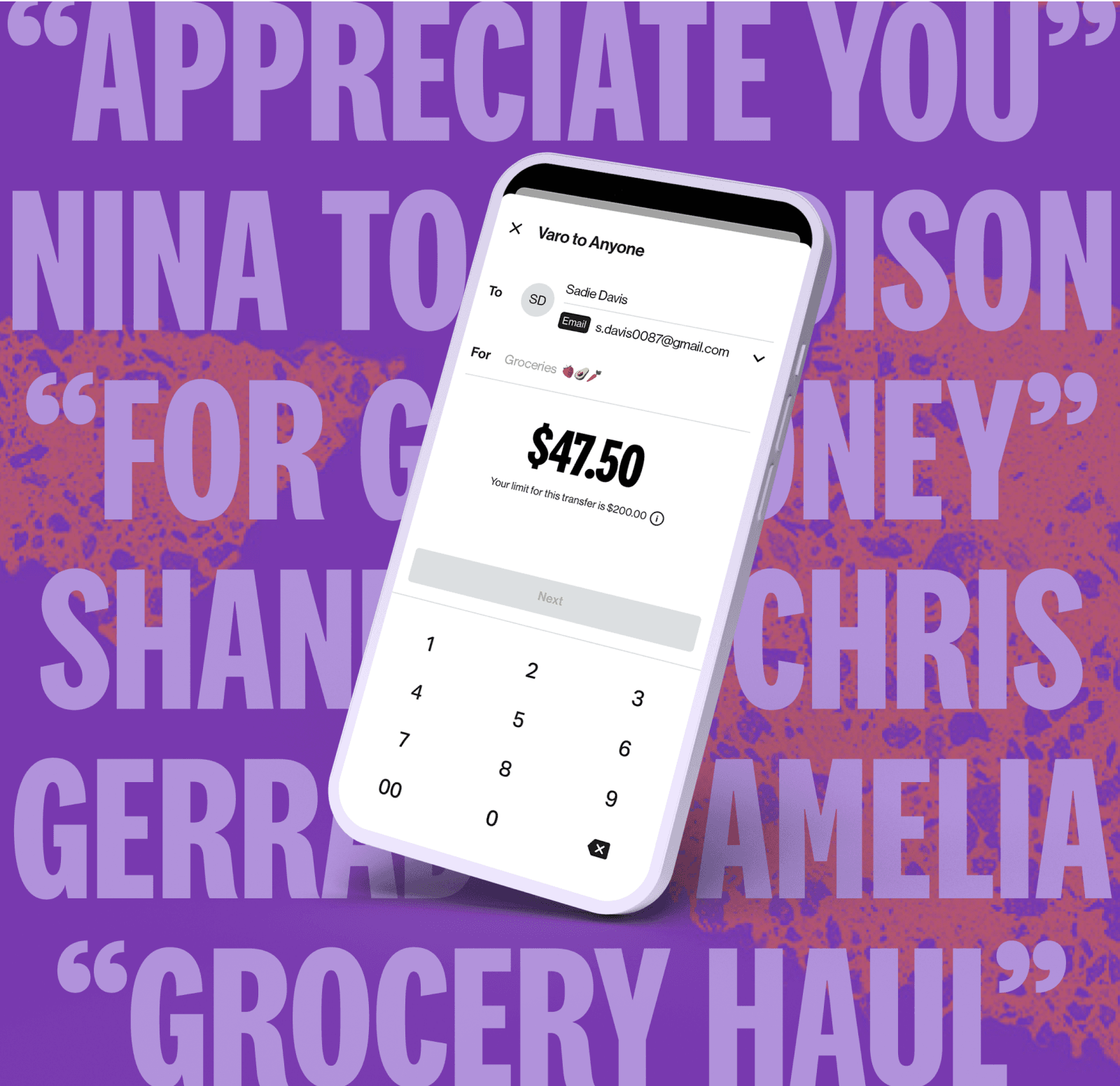 All your money transferring needs in one app
Pay anyone,
for anything.
Splitting the bill? Covering the gas? Sending some love? Doesn't matter if they use Venmo, Chime®, or a U.S. bank – with Varo you can send money to all of them.
Sending money is easy...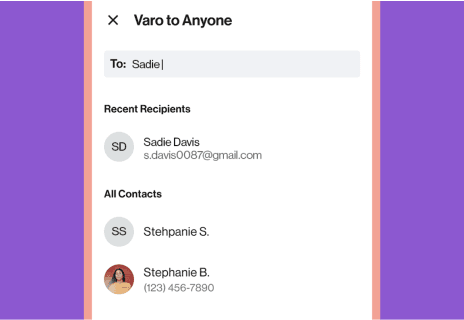 1. Add your recipient
Simply type in their email or phone number.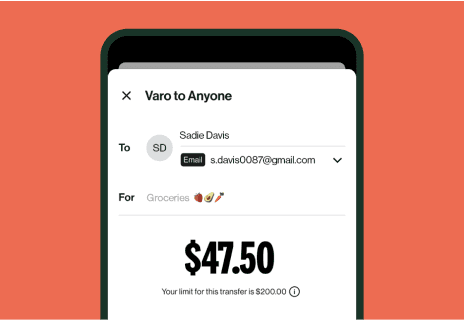 2. Enter the dollar amount
You can also add a personalized note.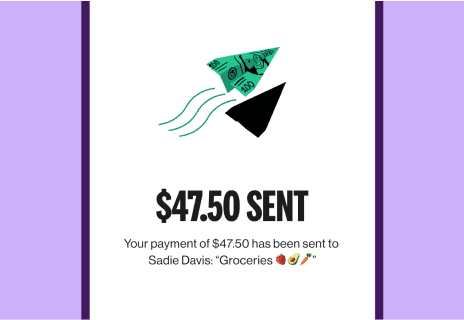 3. Send!
Yup, it's really that easy.
...and it's easy for your friends to receive it too!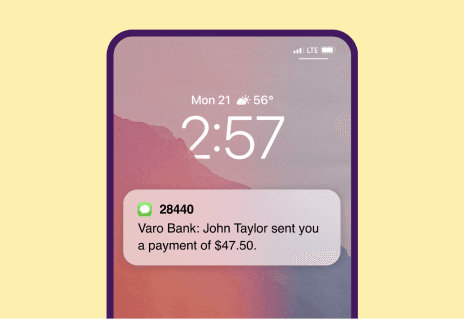 1. Ding-ding!
You'll receive an email or text with a link to claim your funds.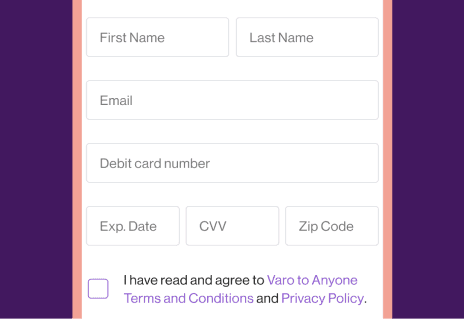 2. Enter your information
Type in your debit card info in order to receive the money.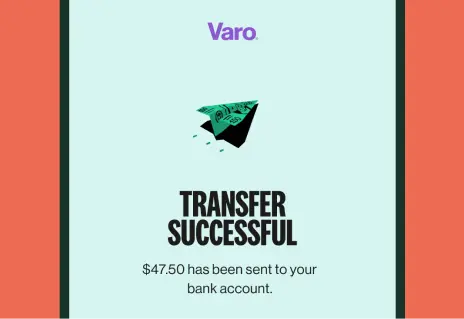 3. Accept the payment
The money will instantly be transferred to your account. Nice!
ALL YOUR MONEY TRANSFER NEEDS IN ONE APP.
Signing up takes less than two minutes. And there's no impact on your credit score.
FAQ
How can I send money to anyone?
What are the payment limits?
Is there a timeframe to accept the payment?
How can I cancel a Varo to Anyone payment?
How can I accept a Varo to Anyone payment?
Answer
---
Here's how to securely send money to anyone, even if they're not a Varo customer, instantly and without a fee:
Tap Move Money 

Select Varo to Anyone

Select a recipient by entering the email address or U.S. phone number of the person you're sending money to 💡You can update Varo's access to your contact list in your mobile device's settings to easily locate your friends and family within the app 

Enter the amount you want to send

Enter an optional note with the reason for the payment

Review the payment a final time
⚠️Payments can't be canceled or reversed after the recipient claims their funds
Tap Send money to finish the payment
Completed and pending payments will show in your Transaction History under Move Money > Varo to Anyone history.